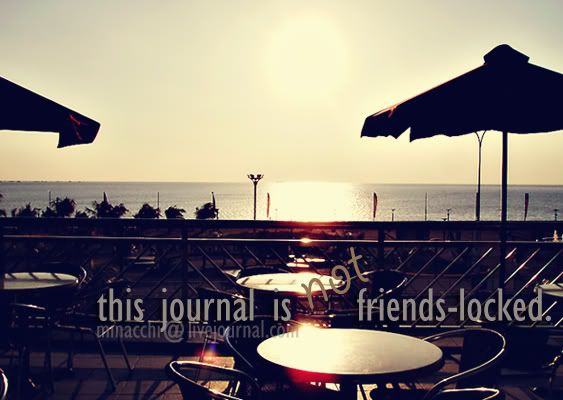 [27.03.18]
はじめまして! My real name is
Carmina
, but almost everyone calls me by my nickname
Mina
, hence my username
minacchi
. I'm 28, and I'm from the Philippines.
I opened this LiveJournal account back in 2008 without a real vision of what kind of blog it should or would be for. Gradually, though, it became a little space dedicated to my ramblings about personal life, fangirling rants, and everyday adventures. Now, nine years after, even though my entries have been more sporadic, I'm fervently hoping to keep this little personal space alive for as long as I can, to see what kind of space it could further be for.
So... let me just share a few things about myself. I'm working full-time as a nurse, but when I'm not in the hospital busy taking care of patients, I'm busy fangirling. I mostly have a Japanese fandom. I am in love with
anime and manga
,
J-dramas and J-movies
, and I very much prefer listening to J-pop. I have been in love with
ARASHI
since late 2006, with
NEWS
since early 2007, with
KANJANI8
since late 2008, and with
HEY! SAY! JUMP
since late 2013.
Okura Tadayoshi
,
Yamashita Tomohisa
,
Ninomiya Kazunari
, and
Yamada Ryosuke
are my JE biases. I've started to become a fan of
L'arc~en~ciel
in 2015 (though I honestly couldn't understand why I started to follow them only at 25 years old when I've known them since I was probably 11), and I very much adore the pretty and extremely-talented
Hyde
-sama. I've also been a fan of
AKB48
since mid-2012, and of J-ikemen such as Ikuta Toma, Miura Haruma, Sato Takeru, Koike Teppei, and Mukai Osamu (just to name a few).
Nevertheless, I also have a Korean fandom. I watch K-dramas and K-movies and listen to some K-pop. I've been a fan of
SNSD
since late 2010 and
SHINee
since late 2017 (baby
Lee Taemin
is my bias), and I'm in love with my K-oppas Joo Won, Lee Min-Ho, Kim Soo-Hyun, Song Joong-ki, Choe Jin-Hyuk, Jang Hyuk, and Hyun Bin.
As for sports, I'm an avid figure skating fan. I've always enjoyed watching the sport since I was young
.
My favorite figure skaters are Hanyu Yuzuru, Asada Mao, and Kim Yun-a.
I very much love
reading books
. I prefer dystopian adventures, mysteries, thrillers, young adult books, and romance novels, though I appreciate quite a wide variety of genres. Leave me inside a bookstore or a library for hours and I'd never complain--in fact, I'd pretty much be in heaven!
Writing is also a passion of mine. When I was younger, writing
fanfiction
and
short stories
was my absolute pasttime. My weakness, though, is procrastination, so aside from a single one-shot, I have never finished writing any multi-chaptered fanfic. There was once a point in my life when I dreamed on becoming a professional novelist--well, I'd like to believe that there's still a little spark of hope somewhere.
I'd love to learn different languages. I'm currently trying to study the Japanese language, and I try to practice by translating Japanese songs I love--it's a pretty good way to study without getting bored. I have never tried taking the JLPT and I'm not an expert, but with all the effort, I'm hoping that someday my Japanese language skills would be better. Photography is also something I would love to pursue, but as of this time, I'm a complete amateur--I just love taking pictures. My sidekick: my lovely, every-trusty Panasonic Lumix LX5.
Traveling is my guilty pleasure. So far, I've been to five countries outside my own (and one of those is Japan, one of my dream destinations!), and I'm aiming to travel to as many countries as my feet (and wallet) could take me. Since I was a child, I've always dreamed of being an astronaut. Since that is, well, a dream too far away, my current dream is to travel around the world. But a more immediate dream would be to travel to Japan (MARCH 2017 EDIT: Done, thrice! <3) and watch an Arashi, Kanjani8 (MARCH 2017 EDIT: Done, done, done--TWICE!!), and Laruku concert! Hopefully, in my next life, I will be someone who flies space shuttles to the moon--or beyond.
Right now, this journal is entirely public, so there would technically be no point in adding me up as an LJ friend if you'd only like to read my entries. But still, please feel free to add me if we have the same fandoms, the same interests, the same crazy fangirling habits, or, simply, if you would just like to be friends. Please be warned, though, that I tend to write long-winded entries concerning just about anything and everything! If you don't really mind, go ahead and add me up. <3
But before I add you back, please introduce yourself first by commenting on this entry.
よろしくお願いします!