Last January 17, I finally saw Kanjani8 live.
When the
Genki ga Deru Live!!
concert tour dates were announced and I saw that the very last day of the tour--the special オーラス--fell on, of all days, the 17th of January, I took it as a sign from the heavens...
...because January 17 is my birthday.
Needless to say, I was determined to spend my birthday in Japan, experience some snow while I'm at it (I live in a country that wouldn't see a single snowflake, so please pardon the enthusiasm), and, after eight years of being an Eighter (what a beautiful number this is!) finally watch a Kanjani8 live concert for the very first time.
And yes, thankfully, I fulfilled all those and celebrated my 26th year in Japan, in temperatures ranging from sub-zero to 10C, and experienced snow in Kyoto--where it rarely snows! And though I would have loved to watch maybe two concert performances to satisfy this fangirl heart, circumstances allowed me to attend just that one performance on the 17th, that last concert day. For now, though, I felt that this was enough for me.
And yes, finally, I saw my favorite dorks in all their dorky glory. Eighters would know, however, that the concert on the 17th was, if I may say so, historical and something to be remembered, not only because it's the tour All Last, but because it's (most probably) the first time that Okura Tadayoshi wasn't present in any Kanjani8 live concert.
And, yeah, uhm, Okura Tadayoshi is just, well, my
ichiban
. (insert a hundred exclamation points here)
It broke my heart (it
was
my birthday, so I might've been extra-emotional because of this). It broke my heart to see just six members on stage, to always see that one spot on stage they always left open because it was a particular member's spot. It broke my heart that of all days, Tacchon just had to fall sick on my birthday, on that last day of the concert, on that only one day I can watch them. Heck, it broke my heart that he got sick! (Up to now I'm having my doubts on how sick he actually was--they say it was ileus, and really, ileus just isn't as simple as that! I'm really praying that Tatsu has fully recovered now and this is all just because of his chronic overeating XDD)
I believe I would need a separate entry just to express my thoughts about this, and I'm not sure I can stop writing if I don't do it at this point, so I'll just wrap it up for now. I'll be sure to write about it one of these days instead (hopefully).
Well, as everyone would know,
Genki ga Deru Song
was the last song in the setlist. I was very fortunate to "experience" this song that particular concert day. Because Tacchon was absent, we, the audience, sang his part for him. Aside from how Baru cried before performing
Samurai Song
, this was one of the most emotional moments in the concert for me. To be honest, this song didn't appeal to me much before, but my opinion changed after "experiencing" it. Indeed, after everything, it was a song that lifted my spirits. It didn't fully erase my disappointment that day, but yes, when Eito performed it on that day, it cheered me up. And gave me hope, that one day (hopefully, one day
soon
), I'll be able to watch Kanjani8 again live, with all seven members present.
My dearest Eito, your Genki ga Deru "love letter", this particular fangirl has indeed received.
エイトとエイターのみんな、本当にありがとうございました。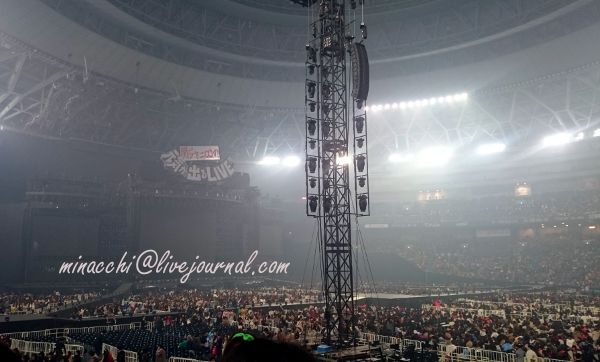 Kanji Lyrics, Romaji Lyrics, English Translation, Color-Coding by:
minacchi
(
Collapse
)